TIDES FESTIVAL 2018 - TAURANGA
Mon. 31 Dec, 2018 at 7:30pm - Tue. 1 Jan, 2019 at 1:00am NZDT
NZD $10.00 - NZD $60.00
18 and Over
Get Tickets
Details
Comments
Event Stats
NZD $10.00 - NZD $60.00
18 and Over
Event Description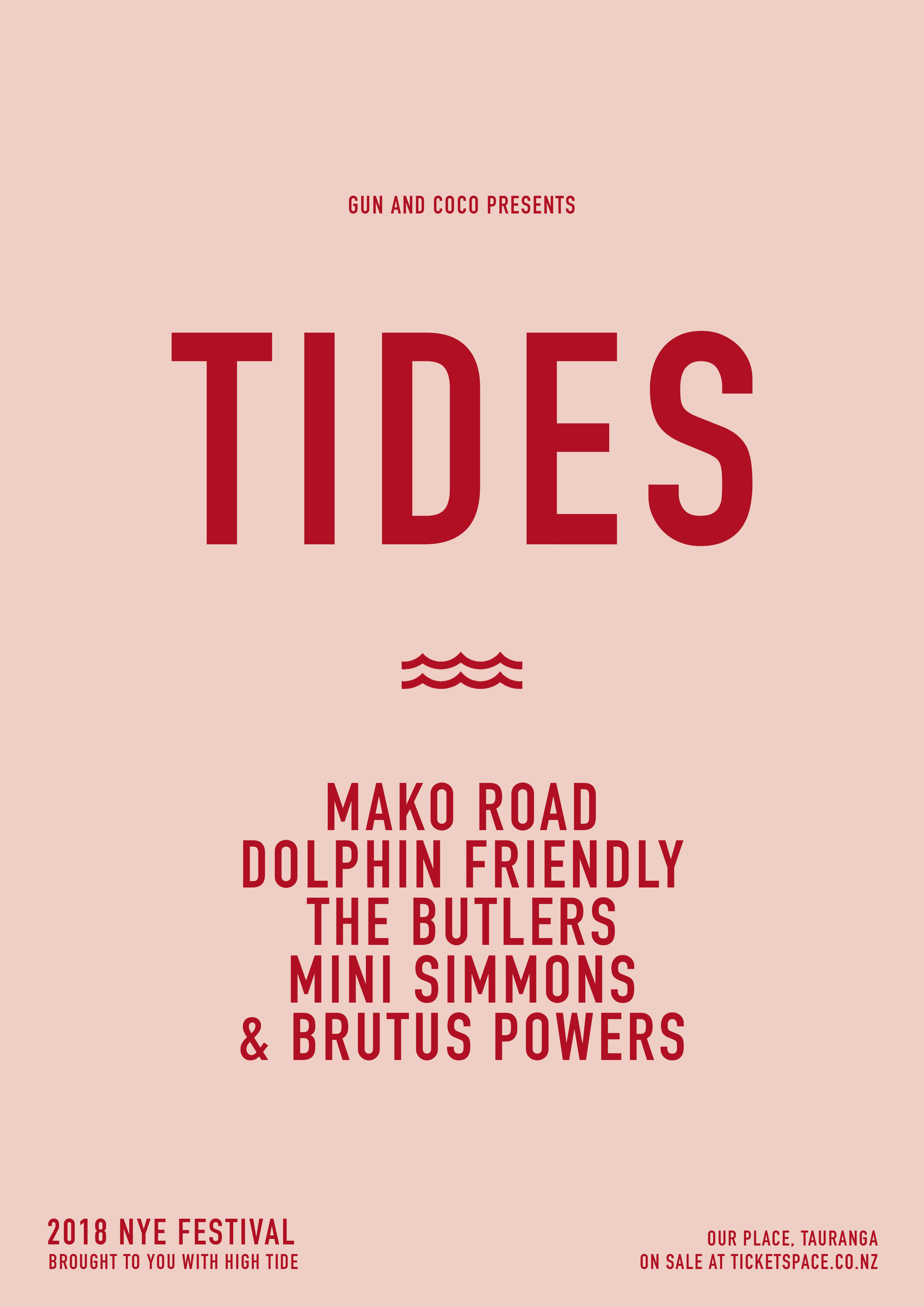 Gun and Coco presents,

TIDES FESTTIVAL
The newly launched New Years Eve music festival right in the buzzing hub of the sunny Bay of Plenty. Carefully curated, this event draws in music lovers to celebrate a yummy mix of local NZ talent in the beach town paradise of Tauranga.
Our Place offers up the perfect scene to gather for a festy by the waterfront with a fully equipped 40 tap bar and the Bays most popular food vendors. Join us on the 31st December under the stars and amongst the container city, we can guarantee you will count in 2019 with a BANG!


Another Gun and Coco party not to miss.
---
TIDES 2018 LINE UP

Mako Road - Spotify
The Butlers - Spotify
Dolphin Friendly - Spotify
Mini Simmons - Spotify
MC Brutus Powers






TICKETS
Limited Early Bird Tickets available now!
Earlybirds - $45 + BF
General Release - $50 + BF

Brought to you with High Tide and Our Place.

---
Mako Road//
Indie pop-rock outfit Mako Road from Christchurch, New Zealand, recently surfaced onto the NZ music scene with a string of self-produced releases. Their debut track 'The Sun Comes Up' made top 5 in the NZ and Aus Spotify Viral 50s, while their debut EP 'The Green Superintendent featured on the top 20 NZ album charts. Influenced by alternative pop and summer grooves, Mako Road sets the
vibe for sun season and this shines through in their electric live set. Following a busy 2018 playing sold out shows around New Zealand,
the next EP 'Local Safari' will be released in December, with an Australasian tour to follow.

The Butlers//
The Butlers are a Christchurch based 5 piece outfit creating milky surf rock goodness for your earholes. 2018 has seen them go from strength to strength, with a string of sold out shows, support for some massive acts and a huge album due at the end of the year.
With constant mentions from NZ on Air, blogs and publications stating that The Butlers are 'one to watch', it's best you get some of this milk in your earholes as soon as you can..

Mini Simmons//
Mini Simmons are a NZ based Blues-Rock band that captures the stomping swing of the wild 70's with groove oriented bell-bottom flare. Dreamt up on the pacific highways of Mexico, electrified campfire séances propelled the band onto the stages of the Auckland club scene. Hard working and hard living, it was here they honed the intense high-energy live show for which they have earned a name.The band's debut album to be released in March 2019 takes their raw, rustic sound and funnels it into a more melodic concoction, served on a plate of virile sexuality. It's still barking Rock & Roll, but there is a bite to it that's jumping with fresh energy.

Dolphin Friendly//
"Brewed from the seas of Chch, Dolphin Friendly have cooked up a punchy mash of classic rock, surf-punk, reggae, pysc, and indie rock, into one seasonal banging sound sensation. The Dolph boys tell their story of musical obsession by combining their liquid reggae, pyscedellically morphed, crunchy rock etiquette, into a whopping mesmorisable live performance with multiple musicianships. Their live shows thrive on energy, emotion, and charisma, leaving you in an eyes closed euphoric state one minute, to irresitably head banging the next. With a recently released EP "Tunes From the Tuna Can" the boys have taken their scaldering salty melodies on a full paced NZ tour with sold out shows around the North and South Island"

Join the Conversation
Follow the event with #tidesfestival2018