ONE LOVE FESTIVAL 2022 RESALE
Sat. 29 Jan, 2022 at 12:00pm - Sun. 30 Jan, 2022 at 11:00pm NZDT
Event Description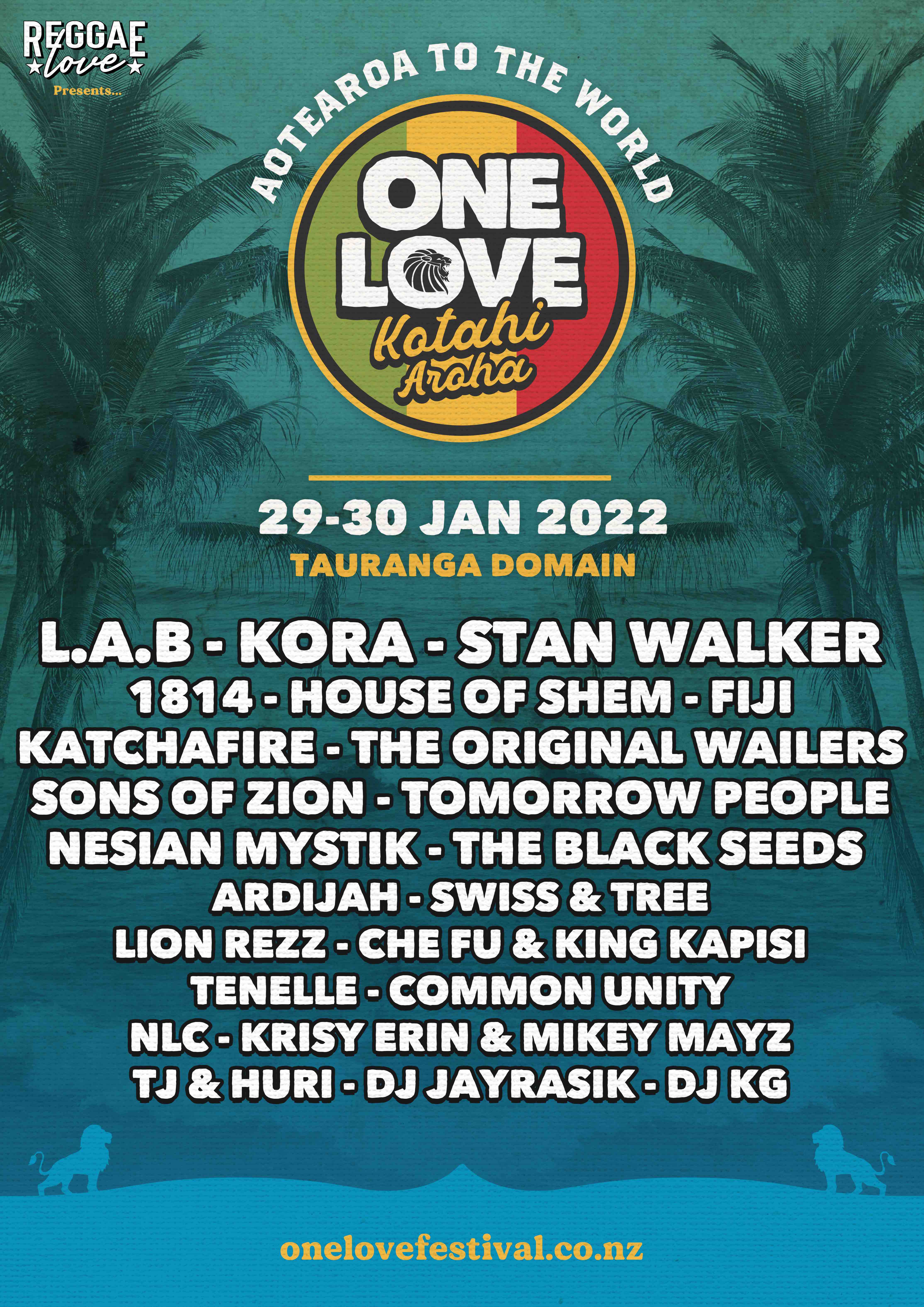 ---
⚡️ONE LOVE 2022 ⚡️
Reggae Love presents One Love Festival in Tauranga Moana, 29-30 January 2022 featuring L.A.B, Kora, Stan Walker, Fiji, 1814, House of Shem, Katchafire, The Original Wailers, Sons of Zion, Tomorrow People, Nesian Mystik, The Black Seeds, Ardijah, Swiss & Tree, Lion Rezz, Che Fu & King Kapisi, Tenelle, Common Unity, NLC, Krisy Erin & Mikey Mayz, TJ & Huri, DJ Jayrasik & DJ KG!
One Love is the biggest reggae festival in Aotearoa and highly regarded the world over. Every Summer it brings 20,000 people to the heart of Tauranga. With over 10,000 tickets already sold before the line up was announced!
One Love festival is under new ownership by Reggae Love Ltd, lead by Tauranga's  Glenn Meikle.
Meikle says, "My team and I are deeply passionate about One Love festival having been involved in the management of this event since it's inception, building the movement and its kaupapa, and a deep appreciation for the music and our audiences, as well as the huge value the event brings to Tauranga and the Bay of Plenty, and its important role in maintaining the high profile of New Zealand reggae and roots music across the world.
"One Love is an iconic and beloved event in our home town – the best reggae festival in the world, in the roots reggae capital of Aotearoa – and we're looking forward to welcoming this huge line up of artists in February."
All international artists will follow the Government's travel restrictions at the time they arrive.
Join the Conversation
Follow the event with #OneLoveNZ